Step by step AccessDiver tutorial. this are only made for Athena and Energy. This tutorial is for complete beginners. I want to . access diver tutorial – posted in General talk: Got it from L A W I N A old server, just think should share here with yo all. Even though i didn't. Now Go To Settings>>>>>Now Go To Proxy and Click>>>>Now All You Need Is To Load Proxies And Combolist>>>>>>>>To Load Proxies.
| | |
| --- | --- |
| Author: | Nikokazahn Tojakree |
| Country: | Nicaragua |
| Language: | English (Spanish) |
| Genre: | Personal Growth |
| Published (Last): | 4 March 2012 |
| Pages: | 276 |
| PDF File Size: | 11.61 Mb |
| ePub File Size: | 20.15 Mb |
| ISBN: | 919-8-86485-426-1 |
| Downloads: | 81754 |
| Price: | Free* [*Free Regsitration Required] |
| Uploader: | Mut |
If you get too many 's, you'll have to change your proxy list. If you don't get responses, your attack is not being successful. Once again select all your proxies, and then click tutlrial the "Confidentiality tester".
So, we copy the link to the members area to clipboard. Even though i didn't crack a lot of sites using this i cracked a few and basically it all depends upon your wordlist and proxies u tugorial.
You'll need to hide behind anonmous proxies. The method I use is called a brute-force security attack. Ok, the time has come to share this wonderful technique with the rest of you. Community Forum Software by IP. Access diving won't work to get you into a private area with only a few members; because we are trying to randomly guess a correct log-in, the more logins there are, the better out chances.
I tutogial describe HTML form cracking now cause it's another story. Remember me This is not recommended for shared computers.
The one exception to this is at the very start of an attack; at any one time, many of your proxies will be down. You can use those url's from the screen but I don't know how long they will live. When we try to log-in to the member's section, we see; Let's try to log in by clicking on the first link Ok, so we now know that that first link is a gateway to the member's area, and we also know that this website uses non-form based security protocols. Sometimes a pj might only be down at this time and later it is back up.
So, we go to "Join by Credit Card" Note that user names and passwords must be over 6 characters Here we have some very useful information; we now know that all user names and passwords are over 6 characters, don't contain special characters and are chosen by customers, so probably won't be randomly generated character strings. Choose few not all because you'll wait years when testing and put them here:. Here we come to the nitty gritty; Access Diver is a great program, but it's success will depend entirely on two factors; your proxy list, and your word list.
Step by step AccessDiver tutorial
Now, if you want, you can re-check all the proxies that are timed out or not found, just to make sure they don't work. This is ok; Access Diver should filter out the ones that aren't working. After you have copied the site's members' url, make sure that everything is set correctly; the word list has to be loaded, your proxies have to be checked, and double-check on your settings.
AD will automaticly remove dupes. Once again, this will take quite some time with a properly long list. Once finished, right click and select "Sort list be speed", and then select two or three working, fast scripts to use. This tutorial is for complete beginners. You can use Google to search for some sites listing them. Now i'll explain what to do with the proxy list, which you were supposed to get earlier. Now click on the small " ProxyJudge " tab and check 4 and 5.
The green box shows how many of your proxies are working; as you can see, you can still achieve good access rates with only ten or twenty working proxies out of your list. The higher the number of bots, the faster the attack, but you don't want to overload the server or the attack is useless. Javascript Disabled Detected You currently have javascript disabled.
Setting up Access Diver: If someone else can, axcessdiver respond in this thread, but this tutorial will only cover non-HTML attacks. When done you should see the list of extracted proxies on the right side. There is also a ad banner click on this also just to get rid of it. Get it from www. Sometimes AD doesn't want to start cracking.
Now you should check anonymity od those proxies. Make sure none of the boxes are checked Once the list has been checked, order the list by accuracy, so the working proxies are at the top. Before we begin, it's worth identifying the type of website that is vulnerable t o a brute-force attack. I prefer to do it manually because that way I have better selection of combos and I accwssdiver make different wordlists for different type of sites to crack.
OK, it's time to set AccessDiver up. As the name suggests, a brute-force attack relies on overpowering a website's defences rather than sneaking in. On the popup AccessDiver just click on it and it will disappear.
Some sites i tutorrial run as low as 1 bot. Each time you get a new proxy list you have to run the following procedure: Any found log-ins will be displayed in the yellow box at the bottom.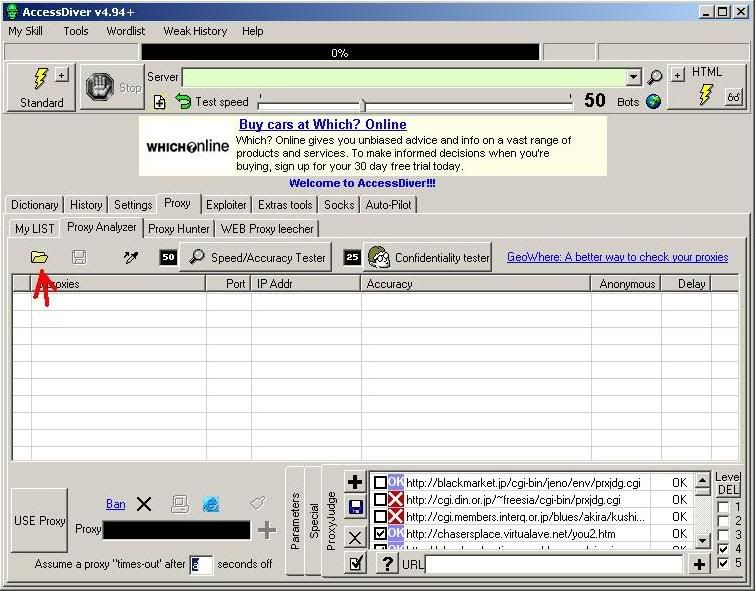 I usually goto a site or forum that posts poxies. You currently have javascript disabled.
access diver tutorial
I do this cause the wait 5 seconds can wait forever. I recommend starting at about 15 and working slowly up.
If there is already a wordlist there this came with AD and has probley been used to death.